13.12.2017 | Ausgabe 1/2018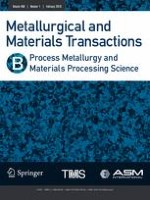 Study of a Single-Power Two-Circuit ESR Process with Current-Carrying Mold: Mathematical Simulation of the Process and Experimental Verification
Zeitschrift:
Autoren:

Yanwu Dong, Zhiwen Hou, Zhouhua Jiang, Haibo Cao, Qianlong Feng, Yulong Cao
Wichtige Hinweise
Manuscript submitted June 25, 2016.
Abstract
A novel single-power two-circuit ESR process (ESR-STCCM) with current-carrying mold has been investigated
via
numerical simulation and experimental research in this paper. A 2D quasi-steady-state mathematical model is developed to describe ESR-STCCM. The electromagnetic field, flow field, slag pool temperature distribution, and the shape of a molten steel pool in ESR-STCCM have been investigated by FLUENT software as well as user-defined functions (UDF). The results indicate that ESR-STCCM is different from the conventional ESR process. The maximum electromagnetic force, current density, Joule heat, and slag pool flow velocity are located in the lower part of the conductor in the ESR-STCCM process. The direction of the maximum electromagnetic force inclines upward. There are two distinct vortices in the slag pool. The larger swirl rotates counterclockwise near the conductor, with a value of 0.0263 m s
−1
due to the interaction of the electromagnetic force and gravity. The maximum temperature of the slag pool is 2070 K (1797 °C) and is located in the center of the swirl with a filling ratio of 0.6 and a 20 mm electrode immersion depth. The depth of a molten steel pool is shallower, which is conducive to improving solidification quality. In addition, the filling ratio of 0.6 is conducive to controlling steel solidification quality. Some experiments have been done, and the numerical model is confirmed by experimental results.