2021 | OriginalPaper | Buchkapitel
Study of Building Information Modelling Implementation on Railway Infrastructure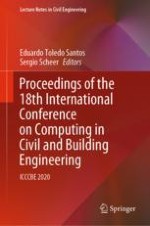 Erstes Kapitel lesen
Autoren: Ali Aryo Bawono, Christian Maximilian von Schumann, Bernhard Lechner
Abstract
In the very recent, Building Information Modelling (BIM) technology is implemented in many aspects in the construction industry such as buildings, bridges, dams, tunnels, as well as in railways. McGraw Hill reported that 12% of the contractors in France, Germany and the UK have been using BIM for at least six years or more. Similarly, in the US and Canada, where more than a third of the BIM-using contractors have experience for six or more years. South Korean contractors show a 65% BIM adoption rate [
1
]. In Singapore, the Building and Construction Authority has implemented the BIM roadmap since 2010 with the aim that 80% of the industry will implement BIM by 2015 [
11
]. By now, Singapore is one of the leading authorities with its guidelines and implementation [
12
,
13
].
Despite a notable implementation of BIM in those industries, many companies are facing challenges when it comes to BIM implementation in railway infrastructure. The phenomenon is however, not studied extensively. Most of the existing studies were investigating issues in the context of bridges and tunnelling projects, while studies on BIM implementation in railway projects were found less [
2
]. In infrastructure and especially in railway projects the implementation is lacking in comparison to the broad implementation of BIM in building projects [
1
]. Not only are the implementation rates of BIM in railway infrastructure far lower compared to those in buildings, but also little specific scientific publications are available on the implementation of BIM in railway infrastructure [
3
].
This paper presents the study of BIM implementation in railway infrastructure based on a survey, with a semi-structured interview method, done on BIM-using railway contractors/users. The questionnaire was carefully designed to understand better the perspective of contractors/users in using BIM. Key challenges, including technical, personal, and process aspects are addressed. Point of view of managers and engineers who are responsible for BIM are discussed. Lastly, expectations on improvements for the features and solutions from the users were revealed so BIM can be used in a better way.