19.08.2019 | Ausgabe 11/2019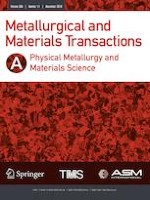 Study of Dry Sliding Wear Behavior of Hot-Rolled and Mushy-State Rolled Al-4.5Cu-5TiB2
In-Situ

Composite with Analysis of Work Hardening and Subsurface Microstructure-Microtexture Evolution Using EBSD
Zeitschrift:
Autoren:

Monalisa Mandal, Rahul Mitra
Wichtige Hinweise
Manuscript submitted January 10, 2019.
Publisher's Note
Springer Nature remains neutral with regard to jurisdictional claims in published maps and institutional affiliations.
Abstract
The response of the Al-4.5 wt pct Cu-5 wt pct TiB
2
in-situ
composite in the as-cast, hot-rolled, mushy-state rolled, or pre-cold rolled mushy-state rolled conditions to dry sliding wear tests at 1 m/s linear speed under 20N load has been examined. Further, microstructures and chemical compositions were simultaneously studied by scanning electron microscopy and energy dispersive X-ray spectroscopy, respectively, whereas the microtexture was quantified by electron backscattered diffraction (EBSD) analysis. An effort has been made to understand the relationship of CuAl
2
and TiB
2
particle distribution, microtexture, and hardness obtained through the aforementioned rolling processes with wear rates and post-wear surface profile. Additionally, the amount and depth of work hardening as a result of wear has been correlated with the subsurface microtexture evolution. Among the investigated wear-tested samples, the pre-cold rolled mushy-state rolled composite (PCMRC) has shown the best wear resistance due to high hardness being contributed by the highest low-angle boundary (LABs; misorientation angles < 15 deg) density, and a more homogeneous distribution of second-phase particles, which help in resisting the surface abrasion by forming a uniform mechanically mixed layer (MML). The MML primarily consists of the oxides of Al and Fe coming from the rotating steel disc during dry sliding wear tests, and acts as a lubricating medium, leading to the lowest coefficient of friction for the PCMRC. Examination of the subsurface of post-wear hot-rolled composite by EBSD has shown the presence of extremely deformed grains with a high density of LABs, thereby forming a fine sub-grain structure, which replaces its typical initial recrystallized equiaxed strain-free grain structure. In contrast, post-wear MRC and PCMRC samples, which exhibited a high density of LABs before the wear test, have shown a relatively lower density of LABs along with the formation of finer Al grains adjacent to the particles. Grain refinement in subsurface locations of MRC and PCMRC during wear is either ascribed to increase in misorientations of pre-existing LABs to angles > 15 deg due to considerable strain accumulation near TiB
2
particles or particle-stimulated nucleation by dynamic recrystallization due to flash heat generation. Furthermore, a remarkable increase in the post-wear microhardness of the subsurface locations has been used to confirm that significant work hardening is caused by severe plastic deformation of the composite matrix during wear, which is in great coherence with the results of EBSD analysis.