16.09.2016 | Original Paper: Sol-gel and hybrid materials for biological and health (medical) applications | Ausgabe 1/2017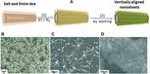 Study of Eu3+ and Tm3+ substitution effects in sol–gel fabricated calcium hydroxyapatite
Zeitschrift:
Autoren:

Aleksandra Prichodko, Francesco Enrichi, Zivile Stankeviciute, Alvise Benedetti, Inga Grigoraviciute-Puroniene, Aivaras Kareiva
Abstract
In this study, an aqueous sol–gel chemistry route based on phosphoric acid as the phosphorus precursor, calcium acetate monohydrate and lanthanide (III) oxides as source of calcium and lanthanide ions, respectively, have been used to prepare europium- and thulium-substituted calcium hydroxyapatite (CHAp:Ln3+) powders. The ethylenediaminetetraacetic acid was used as complexing agent in the sol–gel processing. The final products were obtained by calcination of the dry precursor gels for 5 h at 1000 °C. The phase transformations, composition, and structural changes in the polycrystalline samples were studied by infrared spectroscopy, X-ray powder diffraction analysis, scanning electron microscopy and photoluminescence measurements. It was demonstrated, however, that the substitution of calcium by Eu or Tm proceeds in the CHAp at low concentration of lanthanide ion.
Graphical abstract
Excitation and emission of Tm
3+
in CHAp:Tm
3+
spectra.