11.11.2020 | Ausgabe 7-8/2020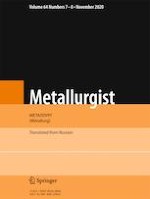 Study of Features of Phase Precipitation Formation, Structural State, and Properties of Ferritic Class Microalloyed Low-Carbon Steels
Zeitschrift:
Autoren:

A. I. Zaitsev, I. G. Rodionova, N. A. Arutyunyan, S. F. Dunaev
Wichtige Hinweise
Translated from Metallurg, Vol. 64, No. 8, pp. 21–27, August, 2020.
Features of the formation of the structural state, phase precipitates, and properties for rolled product of complex V–Nb–Ti–Mo microalloyed lowcarbon steels of the ferritic class of six different compositions melted in the laboratory are studied. It is established that with low temperatures for strip winding on a coil formation of interphase and ferritic precipitates, making a considerable contribution to strength properties, is considerably limited. Steel cooling rate after rolling, equal to 20°C/sec, is insufficient for obtaining a structure of entirely block (acicular) ferrite (AF), which has better strength properties. A reduction in this leads to lowering of the AF fraction with an insignificant effect for temperature at the end of rolling. According to the results studying rolled products produced using higher values of
T
wi
= 650°C and a cooling rate of 25°C/sec, the possibility of simultaneous formation of an AF structure and a system of nanoscale interphase and ferrite precipitates is demonstrated making it possible to increase steel strength and other service properties considerably.