01.06.2015 | Original Contribution | Ausgabe 6/2015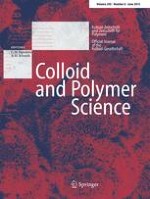 Study of pH-responsive surface active ionic liquids: the formation of spherical and wormlike micelles
Zeitschrift:
Autoren:

Zhihu Yan, Caili Dai, Mingwei Zhao, Yuyang Li, Mingyong Du, Dongxu Peng
Abstract
A noncovalent bonding method is utilized for forming pH-responsive surface active ionic liquids in mixed
N
-hexadecyl-
N
-methylpyrrolidinium bromide-based cationic surfactant (C
16
MPBr) and potassium phthalic acid (PPA). Rheology, cryogenic-transmission electron microscopy, and dynamic light scattering results revealed that the microstructure transition between spherical micelles and wormlike micelles was the fundamental cause of the pH-sensitive rheological properties. In addition, combined with nuclear magnetic resonance and UV–vis analysis, we found that the structure transition of micelles was attributed to different binding abilities of hydrotropes to C
16
MPBr as pH varies. It is confirmed that the binding ability of PPA to C
16
MPBr is strongest. This noncovalent bonding method is not only versatile but also economical for fabricating pH-responsive surface active ionic liquids.