2019 | OriginalPaper | Buchkapitel
Study of Remote Lab Growth to Facilitate Smart Education in Indian Academia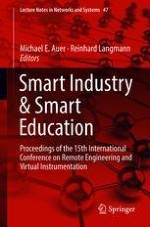 Erstes Kapitel lesen
Challenges and Perks in Bringing Laboratory Education to a Billion
Autoren: Venkata Vivek Gowripeddi, Kalyan Ram Bhimavaram, J. Pavan, Nithin Janardhan, Amrutha Desai, Shubham Mohapatra, Apurva Shrikhar, C. R. Yamuna Devi
Abstract
In a country with a growing population of over 1.2 billion and over 1.7 million engineers graduating every year, it becomes more imperative to have new methods of smart education and which are scalable across the masses. This paper discusses about the need for remote labs in Indian context and identifies the key parameters that determine their growth.
Preliminary reports of different remote labs in India, across all disciplines are tabulated. Their impact is measured both qualitatively and quantitatively through described parameters and their relative effectiveness and is measured. The cost of remote labs, their technology and cost are compared and contrasted with one another thus establishing the key factors for its success and impact.
Outcomes of the preliminary tests show that remote labs in colleges with high student to machine equipment ratio has the highest impact. From normal per student average lab time of 3 h/week, the touch time has increased to over 10.5 h/week. The concept has resounded very well in rural areas where there are learning centers being established to connect with labs thousands of kilometers away.
It is clearly evident that remote labs are both a necessity and highly impactful in the Indian context with outcomes exceeding the expectations. Authors' feel with right approach and execution; smart education can be provided to millions of students in Indian Academia.