01.08.2011 | Originals Originalarbeiten | Ausgabe 3/2011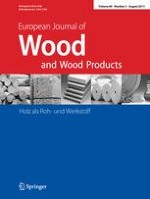 Study of the effect of adding the powder of waste PET bottles and borax pentahydrate to the urea formaldehyde adhesive applied on plywood
Zeitschrift:
Autor:

Murat Ozalp
Abstract
In the present study, the effect of adding the powder of waste PET (polyethylene terephthalate) bottles and borax pentahydrate in equal amounts to the urea-formaldehyde (UF) adhesive on the bonding characteristics and free formaldehyde content was studied. Experiments were conducted on three layered plywood of beech (
Fagus orientalis
) and poplar (
Populus x eureamericana
), which were produced using urea-formaldehyde adhesive to which powdered PET bottle and borax pentahydrate were added in certain amounts. Furthermore, the bending strength of the produced plywood was analyzed according to BS EN 320, the withdrawal shear strength according to BS EN 314-2, and the free formaldehyde content according to EN 717-2. The obtained results were then compared. It can be seen that the addition of powdered PET bottle and borax pentahydrate to the adhesive mixture used on the plywood statistically increased its bending strength and withdrawal shear strength but significantly reduced the free formaldehyde content.