01.06.2015 | Original Contribution | Ausgabe 6/2015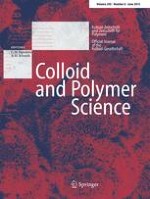 Study of the effect of isotacticity on some physical properties of poly(
N

-isopropylacrylamide)
Zeitschrift:
Autoren:

Chandra Sekhar Biswas, Kheyanath Mitra, Shikha Singh, Kalyan Ramesh, Nira Misra, Biswajit Maiti, Amiya Kumar Panda, Pralay Maiti, Masami Kamigaito, Yoshio Okamoto, Biswajit Ray
Abstract
Some physical properties of high molecular weight linear poly(
N
-isopropylacrylamide)s (PNIPAM) having different isotacticities (
m
, meso dyad = 47, 62, 68, 81, and 88 %) have been studied. The solubility of these polymers in different solvents varied with their isotacticity. Thermal degradation of higher isotactic polymer started slightly earlier. Cloud point of these polymers in water gradually decreased with increase in
m
up to 68 %. Surface tension of these polymers in
N
,
N
-dimethylformamide (DMF) was slightly lower than DMF and almost independent of their isotacticity in the temperature range of 20–60 °C. But it decreased linearly with the increase in temperature. Moreover, for all polymers, it decreased very slightly with the increase in their concentrations in the range of 0.001–0.01 % (
w
/
v
). Viscosity of these polymers in DMF increased with (i) the increase in the concentration range of 1–5 % (
w
/
v
), (ii) the increase in their
m
values, and (iii) the decrease in the temperature in the range of 20–60 
o
C.