11.11.2020 | Ausgabe 7-8/2020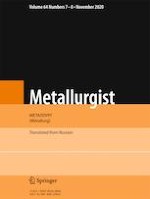 Study of the Effect of Microalloying on Microstructure and Mechanical Property Formation for Rolled Product of Strength Class K52 Produced Under CRU Conditions
Zeitschrift:
Autoren:

V. V. Naumenko, O. A. Bagmet, M. Yu. Matrosov, A. V. Muntin, E. A. Soldatov, A. A. Kichkina
Wichtige Hinweise
Translated from Metallurg, Vol. 64, No. 8, pp. 28–35, August, 2020.
Results are provided for a study of the effect of different microalloying systems (Nb, Nb–V, V–N) on structure formation and mechanical properties of rolled product of strength class K52 produced by combined technology of melting, casting of thin slabs 90 mm thick, and direct rolling with subsequent accelerated cooling and winding on a coil. It is shown that all of the micro-alloying versions selected provide the required strength properties, while metal microalloyed solely with niobium demonstrates the best brittle fracture resistance at low temperature. It is shown that addition of niobium to steel not only refines grain size in the metal matrix, but also changes ferrite morphology increasing the proportion of acicular ferrite, which improves steel cold resistance.