2020 | OriginalPaper | Buchkapitel
Study of the Mixing Completion in Concrete Production by Means of an on-Board Sensor System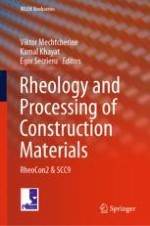 Erstes Kapitel lesen
Autoren: Pierre Siccardi, Xavier Berger, Robin Jean, Marc Jolin, Benoît Bissonnette, Denis Beaupré
Abstract
The second industrial revolution has been accompanied by the massive use of concrete. However, rejected loads or demolitions of new structures due to poor quality indicates that quality control still needs to be improved. Furthermore, with the advent of the third industrial revolution, the industry needs more advanced production systems; for example, high-tech implementation processes like 3D concrete printing will require continuous rheology control systems. In that respect, to answer today's and tomorrow's questions,
Université Laval
has initiated a research program using an on-board sensor system for ready-mix concrete production to monitor real-time concrete fresh properties.
One research interest of the program lies in the study of the completion of mixing, a crucial step to obtain quality concrete: after loading the materials, the driver adjusts the water and admixtures introduced while mixing to obtain the desired consistency. This article aims to highlight the path taken to determine the completion of mixing based on the probe assessment.
Recent tests focused on the measurement of homogeneity by monitoring the pressures exerted on the probe. To better understand what happens in the drum, this step has necessarily involved viewing and studying the behavior of the material during mixing. Moreover, tests brought to light distinctive patterns in the pressures detected by the probe which could be synonym of segregation. Also, methods based on artificial intelligence to anticipate the completion of mixing are already under analysis and appear extremely promising.
Finally, the ambition is to develop an automatic adjustment program that would add water and admixtures through an automatic gate. Resources consumption could be decreased, thus reducing the economic and environmental impact of the concrete production while improving concrete quality.