01.06.2015 | Original Paper | Ausgabe 6/2015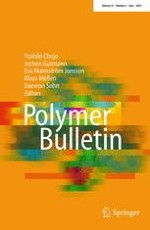 Study on adsorption of cationic dye on novel
kappa

-carrageenan/poly(vinyl alcohol)/montmorillonite nanocomposite hydrogels
Zeitschrift:
Autoren:

Hossein Hosseinzadeh, Shiva Zoroufi, Gholam Reza Mahdavinia
Abstract
In this study, novel
kappa
-carrageenan/poly(vinyl alcohol) nanocomposite hydrogels were developed by incorporating sodium montmorillonite nanoclay. The mixture of polymers and montmorillonite was crosslinked with freezing–thawing technique and subsequent with K
+
ions. The structure of nanocomposite hydrogels was characterized with the FTIR, SEM, XRD, and TEM techniques. By introducing montmorillonite nanoclay, the swelling capacity of nanocomposites was decreased from 1200 to 320 % due to the crosslinking role of montmorillonite nanoclay. The adsorption of cationic crystal violet dye on nanocomposite hydrogels was studied via batch adsorption system on the subject of contact time, nanoclay content, pH of dye solution, temperature, and ion strength of dye solution. Compared with clay-free hydrogel, the nanocomposites indicated a relatively improved adsorption capacity at the same batch system. The variation in the pH of initial dye solution had no significant effect on dye adsorption capacity of hydrogels. Study on salinity of dye solutions showed that while the NaCl salt had less effect on adsorption capacity of hydrogels, in the presence of CaCl
2
and AlCl
3
salts, the adsorption capacity of nanocomposites was significantly decreased. The adsorption kinetics of crystal violet on hydrogels was well described by the pseudo-second-order model. Also, the equilibrium dye adsorption data were analyzed with non-linear Langmuir and Freundlich models and the equilibrium process was followed well the Langmuir model. According to the Langmuir model, the maximum adsorption capacity of nanocomposites was obtained 151 mg g
−1
. Thermodynamic parameters confirmed the spontaneity of the adsorption process. Therefore, the synthesized hydrogel nanocomposites could be employed as a low-cost adsorbent in the removal of dyes from aqueous solution.