10.09.2019 | Comments/Discussions and Replies | Ausgabe 1/2020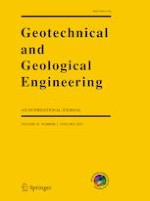 Study on Anchorage Failure and Bolting Measures of Roadway in Weak Rock
Zeitschrift:
Autoren:

Enyuan Dong, Weijun Wang
Wichtige Hinweise
Publisher's Note
Springer Nature remains neutral with regard to jurisdictional claims in published maps and institutional affiliations.
Abstract
A mechanical model for anchorage and surrounding rock was established against the failure of bolting system, the differential equation of load-transfer was solved and the shape and depth of excavation damaged zone (EDZ) of the surrounding rock was analysed. The results show that to achieve full performance of rockbolts materials and to lengthen its service life, two requirements must be met. One is that the load of rockbolt is no more than its load-bearing capacity. The other one is that the anchorage should be located in stable elastic zone. The shape of EDZ is determined by the magnitude and direction of in-situ stress. Reasonable bolting design should abandon the traditional design of uniform support strength. Rather, should adopt coordinated support and nonuniform support design according to the shape of EDZ in field. Based on the above principles, a new type of combination rockbolt with the effect of high resistance and yield pattern was adopted for the new bolting scheme in the main roadway of Puhe Coal Mine. By analyzing the data collected in field, it is concluded that the combination rockbolt can solve the problem that appearing pull-out failure of rockbolts and tensile failure of cablebolts.