01.06.2011 | Ausgabe 11/2011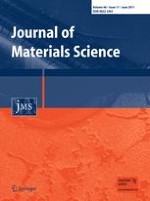 Study on cell nucleation behavior of HDPE–wood composites/supercritical CO2 solution based on rheological properties
Zeitschrift:
Autoren:

Jingjing Zhang, Ghaus M. Rizvi, Chul B. Park, Mohammad M. Hasan
Wichtige Hinweise
This study was grant sponsored by China Scholarship Council.
Abstract
In this study, the shear viscosities of wood–plastic composites (WPC)/supercritical CO2 (sc-CO2) solutions at different die temperatures and sc-CO2 contents were measured by a slit die attached on a single-screw extrusion system. A theoretical model based on the Carreau-Yasuda model and Arrhenius equation was then developed to describe the shear-thinning behavior of the WPC/sc-CO2 solution. This model was incorporated into a finite element method software, POLYFLOW, to simulate the pressure and velocity field of WPC/sc-CO2 solution flowing through a foaming die. Based on the simulation results, the pressure drop rate and the location of the supersaturation point were estimated to investigate the cell nucleation. The saturation pressure of sc-CO2 in WPC was determined by a magnetic suspension balance and corrected by the Sanchez Lacombe Equation of State.