01.02.2014 | Original Paper | Ausgabe 1/2014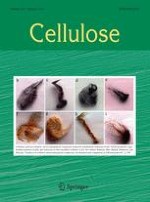 Study on effects of carboxymethyl cellulose lithium (CMC-Li) synthesis and electrospinning on high-rate lithium ion batteries
Zeitschrift:
Autoren:

Lei Qiu, Ziqiang Shao, Mingshan Yang, Wenjun Wang, Feijun Wang, Junling Wan, Jianquan Wang, Yudong Bi, Hongtao Duan
Wichtige Hinweise
Electronic supplementary material
The online version of this article (doi:
10.​1007/​s10570-013-0108-z
) contains supplementary material, which is available to authorized users.
Abstract
This study, for the first time, synthesized carboxymethyl cellulose lithium (CMC-Li) by a two-step method and applied it to modified electrode material by electrospinning and as a binder on a lithium ion battery. By electrospinning, nano CMC-Li fiber and CMC-Li/9, 10-anthraquinone (AQ) composite fiber were obtained successfully and coated AQ electrode material. AQ was uniformly distributed in fibers, and then CMC-Li/AQ composite fiber was carbonized to obtain the carbon nanofiber/AQ/Li [CAL] composite as lithium battery anode material. Also for the first time we investigated substituting aqueous CMC-Li with different degrees of substitution (DS) for oily polyvinylidene fluoride (PVDF) as a lithium battery binder to assemble the battery with CAL for electrochemical performance tests. Compared with PVDF binder, cells with CMC-Li for a binder have excellent advantages, such as higher discharge capacity (226.4 mAh g−1), safer cycle performance, lower cost and being more eco-friendly. Furthermore, the cell with CMC-Li with high DS performed better than the cell with low DS. This method also applies to other electrode materials.