29.03.2019 | Ausgabe 4/2019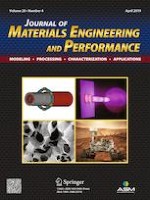 Study on Enhancing Fatigue Life of SAE 9260 Spring Steel with Surface Defect Through Laser Shock Peening
Zeitschrift:
Autoren:

P. Ganesh, Arun K. Rai, Pushpendra K. Dwivedi, Abhijit Chowdhury, Ramakanta Biswal, D. C. Nagpure, R. Sundar, Ram K. Gupta, K. Ranganathan, K. S. Bindra, Rakesh Kaul
Wichtige Hinweise
Publisher's Note
Springer Nature remains neutral with regard to jurisdictional claims in published maps and institutional affiliations.
Abstract
This paper presents an experimental study aimed at evaluating laser shock peening for suppressing deleterious effects of surface defects on the fatigue life of SAE 9260 spring steel specimens. The approach adopted for the study included introduction of standardized surface defects through micro-hardness indentation, peening of region in and around the surface defects with 3.5 J/9 ns Nd:YAG laser and comparing the fatigue lives of unpeened and laser shock peened spring steel specimens with identical surface defects. Under the experimental test conditions, laser shock peening was found to be quite effective in enhancing fatigue life of spring steel specimens with surface defects by more than 25 times. The results of the study are important for enhancing life of the engineering components which develop surface defects during their storage (e.g., corrosion pit), handling (e.g., tool marks) or operation (e.g., erosion pit).