01.03.2009 | Original Paper | Ausgabe 3/2009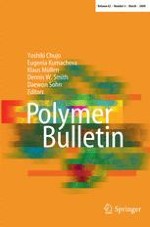 Study on interaction between Eu(III) and thermosensitive microsphere
Zeitschrift:
Autoren:

Xiaoyun Guo, Weiqing Yin, Xuehua Sun, Xiaohua Huang, Tianhong Lu
Abstract
Based on the synthesis of poly(
N
-isopropylacrylamide)-grafted poly(
N
-isopropylacrylamide-co-styrene) (PNNS) microsphere, Eu(III) was chosen to coordinate with PNNS. The interaction between Eu(III) and PNNS was characterized by using X-ray photoelectron spectroscopy, Fourier transform infrared, ultraviolet–visual and fluorescence spectroscopy. The results from experiments indicated that the Eu(III) is mainly bonded to O of the carbonyl groups of PNNS and formed the complex of PNNS–Eu(III). After forming the PNNS–Eu(III) complex, the emission fluorescence intensity of Eu(III) in the complex is significantly enhanced because the effective intramolecular energy-transfer from PNNS to Eu(III). Especially, the maximum emission intensity of the PNNS–Eu(III) complex at 614 nm is enhanced about 33 times comparing to that of the pure Eu(III). The intramolecular energy-transfer efficiency from PNNS to Eu(III) reaches 55%.