12.03.2019 | Ausgabe 8/2019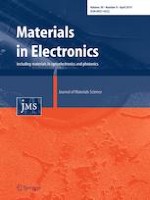 Study on leakage current, ferroelectric and dielectric properties of BFMO thin films with different bismuth contents
Autoren:

L. X. Chen, C. Xu, X. L. Fan, X. H. Cao, K. Ji, C. H. Yang
Wichtige Hinweise
Publisher's Note
Springer Nature remains neutral with regard to jurisdictional claims in published maps and institutional affiliations.
Abstract
Bi
(1+x)
Fe
0.95
Mn
0.05
O
3
thin films with different bismuth contents (abbreviated as B
1+x
FMO, x = − 0.05, 0, 0.05, 0.1) were fabricated by chemical solution deposition on ITO/glass substrates. The effects of Bi nonstoichiometry on the microstructure, leakage current, ferroelectric and dielectric properties of BFMO films are investigated. The B
1.05
FMO and B
1.1
FMO thin films possess single perovskite structure, while the secondary phase of Bi
2
Fe
4
O
9
can be observed in BFMO and B
0.95
FMO thin films. Compared with the other three samples in this work, drastically reduced leakage current can be found in B
1.05
FMO. For each film, the dominant conduction mechanisms are the Ohmic conduction and the space charge limited conduction at lower electric fields and the interface-limited Fowler–Nordheim tunneling at higher electric regions, respectively. Among the B
1+x
FMO films (x = − 0.05, 0, 0.05, 0.1), the B
1.05
FMO film possesses significantly improved electrical properties, reflected by a large remanent polarization (
P
r
 ~ 68.3 µC/cm
2
), lower dielectric loss (tan
δ
 ~ 0.02), large dielectric constant (
ε
r
 ~ 210) and high tunability (88%). These results suggest that the 5 mol% excess of Bi is the prior content to get better insulation, optimize ferroelectric as well as dielectric properties of BiFeO
3
film, giving reference to modify electrical performances of ferroelectric materials through regulation of volatile element.