17.05.2018 | Ausgabe 7/2018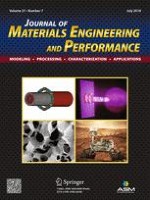 Study on Microstructures and Mechanical Properties of Foam Titanium Carbide Ceramics Fabricated by Reaction Sintering Process
Zeitschrift:
Autoren:

Yana Ma, Chonggao Bao, Jie Chen, Suocheng Song, Longhao Han
Abstract
Foam titanium carbide (TiC) ceramics with a three-dimensional network structure were fabricated by the reaction sintering process, in which polyurethane foam was taken as the template, and TiO
2
and phenolic resin were used as the reactants. Phase, microstructures and fracture morphologies of foam TiC ceramics were characterized by x-ray diffraction (XRD) and scanning electron microscopy (SEM), respectively. The results show that when the mass ratios of phenolic resin and TiO
2
(
F
/
T
) are (0.8-1.2): 1, foam TiC ceramics with pure TiC phase can be formed. As the
F
/
T
ratios increase, crystal lattice parameters of fabricated foam TiC ceramics become bigger. When the value of
F
/
T
decreases from 1.2 to 0.8, grain size of TiC grows larger and microstructures get denser; meanwhile, the compressive strength increases from 0.10 to 1.05 MPa. Additionally, either raising the sintering temperatures or extending holding time can facilitate the completion of the reaction process and increase the compressive strength.