03.01.2020 | ORIGINAL ARTICLE | Ausgabe 7-8/2020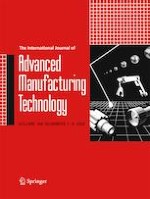 Study on process parameters of fabrication fine diameter electroplated diamond wire for slicing crystalline silicon solar cell
Autoren:

Hongshuang Li, Yufei Gao, Peiqi Ge, Wenbo Bi, Lei Zhang
Wichtige Hinweise
Publisher's note
Springer Nature remains neutral with regard to jurisdictional claims in published maps and institutional affiliations.
Abstract
In recent years, electroplated diamond wire has been extensively used in slicing of photovoltaic silicon crystal with the rapid development of photovoltaic industry. In order to reduce the kerf width and improve the utilization ratio of silicon material, the diameter of core wire used is getting thinner and thinner, which has been reduced to 60 μm. The electroplated diamond wire is affected by various technological parameters in the process of preparation. Poor technological parameters will affect the quality of wire
electroplated coating
, and then affect the quality of the slicing. Therefore, preparation of electroplated diamond wire for photovoltaic slicing has to be studied systematically. In this paper, high carbon steel wire with a diameter of 60 μm was used as the core wire. Diamonds with size ranging from 8 to 10 μm were used as abrasives. Suspended sand method was used in composite electroplating, and nickel sulfamate was the main salt in electroplating bath. The effects of process parameters of pre-plating, composite electroplating, and thickening on the quality of wire were studied systematically. The reasonable range of technological parameters for electroplated diamond wire fabricated by suspended sand method was obtained in this paper. The results of this study can help to further understand the influence of process parameters on wire properties and provide experimental basis and reference significance for development of fine diameter electroplated diamond wire for slicing crystalline silicon solar cell.