2019 | OriginalPaper | Buchkapitel
Study on the Pause Effects During the Work Day in the Cardiovascular Load in the Line of Production of High Cadence With Heart Rate Assessment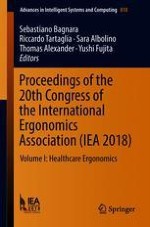 Autoren: Debora Caroline Dengo, Diana Henning do Amaral, Patrícia Rossafa Branco
Abstract
Objective:
evaluating the effects of the break during the working day in cardiovascular burden on high production line cadence with heart rate assessment.
Method:
The research has conducted in a pharmaceutical industry cosmetic products in a High Production Line cadence filling hydroalcoholic. The sample was composed of 10 volunteers, also divided into control and study groups. Breaks were carried out after 2 h of working hours and duration of 5 min. The control group (CG) accomplished standard labor gymnastic (GL) while the study group (SG) practiced compensatory labor gymnastics, whose exercise was composed with both upper limbs in total neutral position (UL), working only the lower limbs. The heart rate (HR) has measured at rest, before and after break with finger oximeter. The evaluation of cardiovascular burden (CCV) has evaluated using Apud score (1997).
Result:
It has been shown statistically that HR pos pause of SG was effective, p < 0.05, as the result of CG was not statistically significant, p > 0.05, demonstrating that the GL with total break of the upper limbs is better than GL of complete body purposing to reduce the HR in upper limbs high production line cadence. In relation to CCV, GE received a CCV 463% lower than the GC, although not significant statistically (p > 0.05), due to the small number of participants in the sample.
Conclusion:
This study has showed that the break had satisfactory results for a cardiovascular burden in the volunteers.