01.06.2015 | Ausgabe 6/2015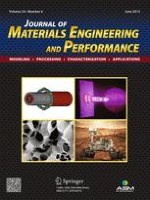 Study on the Wettability and Tribological Behavior of Different Polymers as Bearing Materials for Cervical Prosthesis
Zeitschrift:
Autoren:

Song Wang, Jian Song, Zhenhua Liao, Yuhong Liu, Caixia Zhang, Weiqiang Liu
Wichtige Hinweise
Song Wang and Jian Song have contributed equally to this work and should be considered co-first authors.
Abstract
Tribological behaviors of four polymers (conventional and cross-linked UHMWPE, conventional and glass fiber-reinforced PEEK) articulated with Ti6Al4V ball were studied under both dry sliding and 25% bovine serum lubrication. The hardness, static contact angle, surface damage topography, and wear parameter of wear scar were tested. Both cross-linked process of UHMWPE and glass fiber-reinforced treatment of PEEK improved wettability while they did not increase hardness. PEEK revealed higher surface hardness and better wettability than UHMWPE. The dominant wear mechanisms for UHMWPE were plastic deformation and fatigue wear while the failure mechanisms were severe adhesive and abrasive wear for PEEK. Cross-linked process of UHMWPE could form multi-molecular arrangement and reduce stratification, also decreasing friction coefficient and wear rate in both dry sliding and lubrication conditions. However, glass fiber-reinforced treatment of PEEK only decreased its friction coefficient and wear rate in dry condition, which was closely related to the function and wear mechanism of glass fiber. Cross-linked UHMWPE revealed the lowest friction coefficient and wear rate under lubrication condition, which was attributed to the cross-linked treatment and the formation of both protein adsorption film and lubrication film. Hence, cross-linked UHMWPE may be an alternative polymer for use as artificial cervical disc bearing material when it articulated with Ti6Al4V.