01.12.2009 | Mesostructured Materials | Ausgabe 24/2009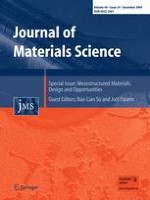 Studying chemical activation in carbon xerogels
Zeitschrift:
Autoren:

Leire Zubizarreta, Ana Arenillas, José Juan Pis, Jean-Paul Pirard, Nathalie Job
Abstract
Chemical activation of carbon xerogels synthesized with different resorcinol/sodium carbonate molar ratios (
R
/
C
) was performed using alkaline hydroxides (KOH and NaOH). The effect of
R
/
C
and the type and amount of alkaline hydroxide on the final properties of the activated carbon xerogels were evaluated. It was found that, in general, both hydroxides produce an increase in microporosity regardless of the
R
/
C
value chosen, without altering the meso/macroporosity developed during the synthesis. KOH develops the microporosity of micro-mesoporous carbon xerogels more efficiently than NaOH, and for samples of large pore size (micro-macroporous samples), a similar textural development was observed for both hydroxides. However, when NaOH is used as activating agent, it is more difficult to eliminate residual Na from the activated carbon xerogels.