04.06.2019 | Original Paper:Sol–gel and hybrid materials for biological and health (medical) applications | Ausgabe 2/2019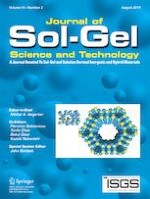 Studying the structural, morphological, and optical properties of CuS:Ni nanostructure prepared by a hydrothermal method for biological activity
Zeitschrift:
Autoren:

Selma M. H. AL-Jawad, Ali A. Taha, Abdulah Mohammed Redha
Wichtige Hinweise
Publisher's note:
Springer Nature remains neutral with regard to jurisdictional claims in published maps and institutional affiliations.
Abstract
In recent years, copper sulfide has attracted great interest in biological application, due to its biocompatibility and low toxicity. Undoped and nickel (Ni)-doped copper sulfide nanostructures were synthesized using a hydrothermal method at 150 °C for 15 h. XRD patterns show that all samples have confirmed the formation of a hexagonal phase. Absorbance spectra were measured by using a UV–vis spectrophotometer. The optical bandgap energy of CuS nanostructure decreased with increasing Ni doping concentration. Their optical bandgap energies were 3.2, 3.21, 2.9, and 2.9 eV for undoped and Ni-doped copper sulfide nanostructures with concentrations of 1, 3, and 5%, respectively. The antibacterial activity of CuS nanostructure against
E. coli
,
P. aeruginosa
, and
S. aureus
was evaluated by zone of inhibition. The test revealed that the minimum concentration of CuS nanostructure has a strong antibacterial activity against Gram-positive bacteria than for Gram-negative bacteria. Antitumor treatment was applied based on employing CuS nanostructures by exploiting their unique optical and morphological properties as therapeutic agents against rhabdomyosarcoma (RD) and murine fibroblast (L20B) cancer cell lines without using laser. The cytotoxicity effect was evaluated by MTT assay; the results demonstrated that CuS nanostructure with 1% Ni doping exhibits more toxicity effect than undoped and doped nanostructures, with 3 and 5% for all particle concentrations, where cytotoxicity reaches 34.3% at 0.125 mg/ml, being the most influential concentration, which could be a promising agent for cancer treatment.
×