01.06.2015 | Research Article | Ausgabe 2/2015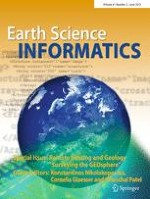 Sub pixel mapping of alteration minerals using SOM neural network model and hyperion data
Zeitschrift:
Autoren:

Mohammad H. Tayebi, Majid H. Tangestani
Wichtige Hinweise
Communicated by: N. Patel
Published in the Special Issue;
Remote Sensing and Geology
"
Surveying the GEOsphere
"; with Guest Editors Dr. Konstantinos Nikolakopoulus, Dr. Cornelia Glaesser and Dr. Nilanchal Patel.
Abstract
This study applies the self-organizing map (SOM) neural network model for sub pixel mapping of alteration minerals in the Masahim volcano, SE Iran, using Hyperion data. Four end-members including sericite, kaolinite, epidote, and montmorillonite/illite were identified from the imagery, and based on these end-members training areas were generated and used to train the model. Numerous tests were conducted for selecting the optimal neural network architecture. The confusion matrix was calculated to identify the accuracy of map produced by SOM. The confusion matrix indicated that among the different SOM architectures, the result of 55 × 55 array of nodes with overall accuracy of 83 % was the best architecture for describing the spatial distribution of alteration unit. The coefficient of determination (R2) was also calculated to assess the accuracy of sub pixel fraction maps. The R2 coefficient was 0.60 for kaolinite, 0.72 for sericite, 0.58 for epidote and 0.62 for montmorillonite/illite .The mapping results revealed that kaolinite, sericite and montmorillonite/illite are emplaced in the caldera of the volcano and epidote is mainly found at the northwestern part of caldera. It can be concluded that the SOM is useful in mineral mapping and exploration activities.