01.02.2011 | Research Article | Ausgabe 1/2011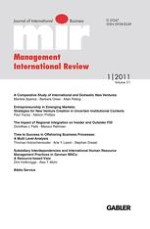 Subsidiary Interdependencies and International Human Resource Management Practices in German MNCs
A Resource-based View
Zeitschrift:
Autoren:

Prof. Dirk Holtbrügge, Prof. Alex T. Mohr
Abstract
Using the resource-based view, this paper links the degree of interdependence that exists between subsidiaries of multinational corporations (MNCs) to the use of various International Human Resource Management (IHRM) practices.

We assume that in many MNCs this interdependence has increased the need for cross-border coordination.

We analyze to what extent MNCs use IHRM practices in order to enhance their coordination capability across national borders.

We present a framework that addresses these effects and empirically test it using data from a questionnaire survey among 142 majority-owned overseas subsidiaries of German MNCs.

The findings show that the degree of interdependence is related to the level of international experience of staff employed in subsidiaries, the use of third-country nationals, the provision of training, the use of cross-cultural management teams, and the choice of employee evaluation and reward methods.

We conclude by discussing the implications of our findings for IHRM practitioners and scholars as well as the limitations of our study.