12.05.2016 | Original Paper | Ausgabe 16/2016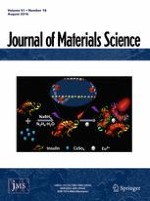 Substrate influences on the properties of SnS thin films deposited by chemical spray pyrolysis technique for photovoltaic applications
Zeitschrift:
Autoren:

Thierno Sall, Miguel Mollar, Bernabé Marí
Abstract
Herein, we report on tin monosulfide (SnS) thin films elaborated by the Chemical Spray Pyrolysis (CSP) technique onto various substrates as simple glass, ITO-, and Mo-coated glasses in order to study the influence of substrates on the physical and chemical properties of Sns thin films. Structural analysis revealed that all films crystallize in orthorhombic structure with (111) as the sole preferential direction without secondary phases. In addition, film prepared onto pure glass exhibits a better crystallization compared to films deposited onto coated glass substrates. Raman spectroscopy analysis confirms the results obtained by X-ray diffraction with modes corresponding well to SnS single-crystal orthorhombic ones (47, 65, 94, 160, 186, and 219 cm
−

1
) without any additional parasite secondary phase like Sn
2
S
3
or SnS
2
. Field emission scanning electron microscope revealed that all films have a cornflake-like particles surface morphology, and energy dispersive X-ray spectroscopy analysis showed the presence of sulfur and tin with a nearly stoichiometric ratio in films deposited onto pure glass. High surface roughness and large grains are observable in film deposited onto glass. From optical spectroscopy, it is inferred that band gap energy of SnS
/
glass and SnS
/
ITO were 1.64 and 1.82 eV, respectively.