01.09.2006 | Ausgabe 17/2006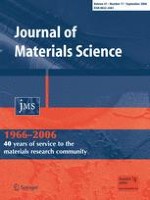 Substrate temperature and water vapour effects on structural and mechanical properties of TiO

x

N

y

coatings
Zeitschrift:
Autoren:

J. M. Chappé, J. Gavoille, N. Martin, J. Lintymer, J. Takadoum
Abstract
Dc reactive sputtering was successfully implemented to deposit titanium oxynitride thin films using a titanium metallic target, argon, nitrogen and water vapour as reactive gases. The nitrogen partial pressure was kept constant during every deposition whereas that of the water vapour was systematically changed from 0 to 0.1 Pa. The study aims at comparing the structural and mechanical properties of the coatings deposited at room temperature (293 K) and at 673 K. Surface morphology of the film was examined by atomic force microscopy and showed different aspects according to the growth temperature. Topography mainly depends on the amount of water vapour introduced during the deposition process. Some significant changes of the crystallographic structure, due to the high substrate temperature were correlated with the evolution of the surface aspect and roughness parameters. Determination of the phase occurrence by X-ray diffraction was also carried out and appeared to be a significant parameter in understanding the evolution of mechanical properties like nanohardness (
H
n
) and Young's modulus (
E
).
H
n
and
E
values obtained by nanoindentation ranged from 16.5 to 7 GPa and from 240 to 100 GPa, respectively. For both temperatures, mechanical properties of titanium oxynitride thin films were notably reduced as a function of the water vapour supply, especially for partial pressures higher than 4 × 10
−2
Pa. These mechanical behaviours were correlated and discussed with the phase occurrence and the amorphous structure of titanium oxynitride thin films.