28.04.2018 | Ausgabe 1/2018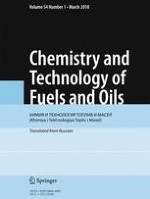 Sulfur-Reducing Additives Based on Aluminosilicates Al-SBA-15 and Al-SBA-16 for Cracking catalysts
Zeitschrift:
Autoren:

A. P. Glotov, N. S. Levshakov, M. I. Artemova, E. M. Smirnova, A.V. Vutolkina, S. V. Lysenko
Wichtige Hinweise
Translated from Khimiya i Tekhnologiya Topliv i Masel, No. 1, pp. 12 – 16, January – February, 2018.
Sulfur-reducing additives for fluid catalytic cracking (FCC) catalysts based on mesoporous aluminosilicates Al-SBA-15 and Al-SBA-16 were synthesized and characterized using FTIR spectroscopy, transmission electron microscopy, low-temperature N2 adsorption/desorption, and thermally programmed desorption of NH3. Catalytic experiments were performed using a commercial zeolite-containing FCC catalyst and the additives (10 wt.%). It was found that all synthesized materials were active for reducing sulfur in liquid catalytic cracking products. The S content in the liquid cracking products obtained using an additive of 3% La-Al-SBA-15/Al2O3 (50:50) decreased by 36% as compared to the same parameter obtained using the commercial catalyst with no additive.