16.10.2018 | Original Paper | Ausgabe 12/2018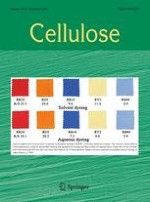 Super-compressible, fatigue resistant and anisotropic carbon aerogels for piezoresistive sensors
Zeitschrift:
Autoren:

Meng Wang, Changyou Shao, Sukun Zhou, Jun Yang, Feng Xu
Wichtige Hinweise
Electronic supplementary material
Abstract
Carbon aerogels combining excellent mechanical performance and conductivity have been increasingly developed for various applications. However, most carbon aerogels are unable to meet requirements for compressibility and fatigue resistance, greatly restricting their applications as strain sensors. Here we apply the bidirectional freezing technique to fabricate graphene and nanocellulose carbon aerogels with the hierarchical structure and oriented pores. The regular architecture combined with the synergistic effect of graphene and cellulose carbon nanofibers make the carbon aerogels reveal a series of mechanical properties, including a high compressibility up to 90%, and high fatigue resistance with a plastic deformation of 8.2% at 50% strain after 10,000 cycles. Moreover, the obtained carbon aerogel exhibits a low density of 3.26 mg cm−3 and the high electrical conductivity of 0.32 S m−1. Considering the high compressibility, superior fatigue resistant and high electrical conductivity, the carbon aerogels are assembled to make flexible strain sensors with high sensitivity of 0.26 kPa−1. The sensor was used to make a pedometer (walking step counter) and accurately monitor human activity, demonstrating potential for use in wearable devices.
Graphical abstract
×