01.02.2020 | Ausgabe 2/2020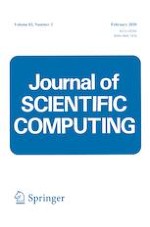 Superconvergent Functional Estimates from Tensor-Product Generalized Summation-by-Parts Discretizations in Curvilinear Coordinates
Zeitschrift:
Autoren:

David A. Craig Penner, David W. Zingg
Wichtige Hinweise
A preliminary version of this paper appeared in
Generalized summation-by-parts methods: coordinate transformations, quadrature accuracy, and functional superconvergence
, AIAA Aviation 2019 Forum, (2019). AIAA paper 2019-2952.
This work was supported by the Natural Sciences and Engineering Research Council of Canada and the University of Toronto. A portion of the computations were performed on the Niagara supercomputer at the SciNet HPC Consortium [
27
]. SciNet is funded by: the Canada Foundation for Innovation; the Government of Ontario; Ontario Research Fund - Research Excellence; and the University of Toronto.
Publisher's Note
Springer Nature remains neutral with regard to jurisdictional claims in published maps and institutional affiliations.
Abstract
We investigate superconvergent functional estimates in curvilinear coordinates for diagonal-norm tensor-product generalized summation-by-parts operators. We show that interpolation/extrapolation operators of degree greater than or equal to 2
p
are required to preserve at least 2
p
quadrature accuracy and functional superconvergence in curvilinear coordinates when: (1) the Jacobian of the coordinate transformation is approximated by the same generalized summation-by-parts operator that is used to approximate the flux terms and (2) the degree of the generalized summation-by-parts operator is lower than the degree of the polynomial used to represent the geometry of interest. Legendre–Gauss–Lobatto and Legendre–Gauss element-type operators are considered. When the aforementioned condition (2) is violated for the Legendre–Gauss operators, there is an even–odd quadrature convergence pattern that is explained by the cancellation of the leading truncation error terms for the interpolation/extrapolation operators that correspond to the odd-degree Legendre–Gauss operators. The theory developed is confirmed through numerical examples with a steady one-dimensional problem and the unsteady two-dimensional linear convection equation.