12.04.2018 | Original Paper | Ausgabe 5/2018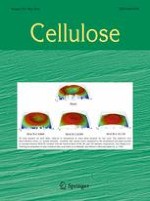 Superhydrophobic, ultralight and flexible biomass carbon aerogels derived from sisal fibers for highly efficient oil–water separation
Zeitschrift:
Autoren:

Yu Liu, Yinxian Peng, Tao Zhang, Fengxian Qiu, Dengsen Yuan
Wichtige Hinweise
Electronic supplementary material
Abstract
With the massive discharge of industrial oily wastewater and the frequent occurrence of oil spills at sea in recent years, the fabrication of superhydrophobic and durable oil-absorbing materials is urgently required for oil recovery and disposal of oily water in practical applications. In this paper, ultralight, elastic, superhydrophobic and durable carbon fiber aerogels (CFAs) derived from sisal leaves were prepared via simple alkalization, bleaching, freeze-drying and carbonization. The prepared CFAs were characterized using X-ray diffraction, Fourier transform infrared spectroscopy, N2 adsorption–desorption, contact angle measurement and scanning electron microscopy. The as-prepared CFAs with 3D porous architectures and excellent flexibility under compression were found to be effective oil absorption material for various oils and organic solvents. Textural analyses showed that the CFAs consist of fiber morphologies with high porosity originating from vacancies between individual fibers. The nitrogen sorption analysis confirmed that the material is mesoporous with average pore diameter of 3.03 nm and Brunauer–Emmett–Teller surface area of 399.85 m2/g. The contact angle measurements revealed that CFAs show both superoleophilic and superhydrophobic properties simultaneously with an oil contact angle of 0° and a static water contact angle of 153 ± 1°, thus the aerogels possessed a good oil–water separation ability. Furthermore, the CFAs exhibited a superior absorption capacity in the range from 90 to 188 times of their own weight for different organic solvents and oils. After recycling 10 times, the CFAs still exhibit excellent oils absorption properties, as well as exhibit excellent stability under harsh conditions, showing that the CFAs has excellent reusability performance. This work provides a green strategy to utilize low-cost biomass as raw materials to fabricate superhydrophobic CFAs as an oil absorbent, which has great potential in application of disposal of oily water and environmental protection.