06.10.2016 | Technical Paper | Ausgabe 8/2017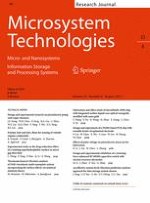 Superior performance of a MEMS-based solid propellant microthruster (SPM) array with nanothermites
Zeitschrift:
Autoren:

Chengbo Ru, Fei Wang, Jianbing Xu, Ji Dai, Yun Shen, Yinghua Ye, Peng Zhu, Ruiqi Shen
Abstract
We propose top ignition MEMS-based solid propellant microthruster (SPM) array to satisfy the precise propulsion requirements of small spacecraft, especially micro/nanosatellites. A 10 × 10 SPM array prototype was fabricated and assembled by standard microfabrication processes. Nano-Al/CuO was chosen as the solid propellant because of its high combustion heat and safety. To improve the propulsion performance of the microthruster, nanothermites mesoparticles were assembled by electrospray mixing (ES) process. The Chemical Equilibrium with Application calculation result indicates that the addition of nitrocellulose (NC) acting as binder into the nanothermites would enhance the thrust performance. The test results verified this. An impulse testing stand was employed to measure the impulse generated by the assembled SPM array, and a high-speed camera was used to record the combustion process. The specific impulse (
I
sp
) and total impulse (
I
) of the binder-free nano-Al/CuO were 10.2 s and 155.9 μN s, respectively. The propulsion values of the ES nanothermites increased monotonically with increasing NC content, and the max
I
sp
and
I
were 27.2 s and 346.9 μN·s, respectively. A 3D X-ray microscope was used to analyze the fired SPM array. The results show that the discontinuous bonding layer led to undesired ignition of the neighboring units.