05.01.2016 | Ausgabe 4/2016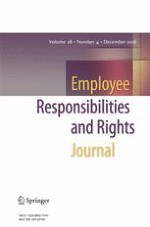 Supervisors and Presenteeism: How do Supervisors Accommodate and Support Skilled Workers with Chronic Health Concerns?
Zeitschrift:
Autoren:

Candace C. Nelson, William Shaw, Michelle Robertson
Abstract
There is a broad literature linking social support to health, which includes evidence that social support from supervisors is positively associated with worker health. In addition, once workers experience a health concern, supervisors may play a key role in supporting workers, keeping them on the job despite health issues. However, there are few studies that investigate the day-to-day strategies supervisors utilize to support their workers and help them stay on the job despite health concerns. The study presented in this paper addresses this gap. Thirty-two supervisors from three companies were interviewed about their experiences supporting and accommodating skilled workers during flare-ups of a health condition. A grounded theory approach was used to analyze the text data and identify themes. Three key themes emerged from the data: 1) workplace policies provide the structure for mutual problem solving; 2) communication skills and existing relationships increase supervisor effectiveness; and 3) strategies were aimed at individual, interpersonal, and institutional supports. Supervisors regularly interact with workers to support and accommodate episodes of illness or pain. While supervisors employ novel and effective strategies, there is an opportunity to improve the range of strategies, better understand and utilize company policies, and facilitate appropriate communication about worker health concerns.