2017 | OriginalPaper | Buchkapitel
Supply and Demand for Information System (IS) Core Knowledge in Non-IS Business Occupations: Fresh Graduates' and Professionals' Perceptions and Perspectives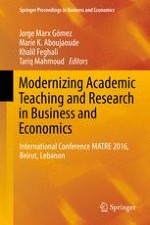 Erstes Kapitel lesen
Autoren: Marie K. Aboujaoude, Khalil Feghali
Abstract
The Information Technology continues to infiltrate our business and change every aspect of our work from where we do it to how we do it. More and more, Information Systems are becoming the cornerstone for leading modern organizations. The result is translated into a high demand and genuine need for individuals who can use these Information Systems efficiently and effectively to achieve strategic business goals and develop a sustainable competitive advantage.
On the other hand, the Information Systems programs provided by today's universities, offer a blend of information, technology and business skills required by managers and team leaders in the modern business organizations. Yet, the enrollment in these programs remains considerably low.
The research investigated why business students deter from majoring in Information Systems (IS) disciplines and provided perceptions from Lebanese business professionals on what IS core knowledge and skills are currently required by non-IS new graduates to succeed in their jobs. Simultaneously, the research elaborated students' perceptions of their IS knowledge and skills. Findings indicated a disparity between the IS knowledge and skills supply and demand.
The results of this study can be effective in helping to bridge the identified gap and to better align the business curriculum and more specifically the contents of Management Information Systems (MIS) introductory course with the current labor market needs.
This latter is a core course for all business majors at almost every business school and provides a unique opportunity to equip all business students with IS core knowledge. The insights obtained from this research will also be valuable for other universities offering MIS Introductory course.
Moreover, this research suggested further exploration of reasons students chose Information Systems as a field of study; this will help developing a strategy for promoting the Business Information Systems (BIS) major.