2016 | OriginalPaper | Buchkapitel
6. Support and Reinforcement Systems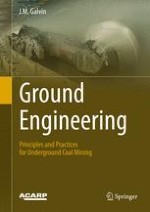 Erstes Kapitel lesen
Autor: J. M. Galvin
Abstract
Once an excavation is formed, it must be ventilated and made secure before persons can venture through it. A wide range of ground support and reinforcement systems are available for securing the surfaces of underground excavations in coal mines. This chapter is focussed on identifying these systems and providing a mechanistic understanding of how they function. This provides an engineering basis for selecting suitable support and reinforcement systems, installing them in an effective manner, and appropriately monitoring the resulting ground response.
The chapter commences by identifying the primary characteristics of any ground support system, being initial stiffness, load capacity, yield capacity and, where appropriate, stability. The distinction is made between the function of a support element and that of a reinforcing element. It then goes on to evaluate support and reinforcement systems under the headings of standing support; tendon support and reinforcing elements; surface restraint systems; spiling; strata binders; and void fillers.
A considerable portion of the chapter is devoted to the anchorage methods for tendon support systems as these play a critical role in tendon performance. The principles of classical beam theory presented in Chap.
2
are then invoked and developed further to provide direction as the type, location, density and timing of installation of ground support systems. The chapter is supported with an extensive selection of photographic illustrations of these systems installed in coal mines along with other figures to help the reader visualise and better understand the underpinning engineering principles.