11.11.2017 | RESEARCH PAPER | Ausgabe 4/2018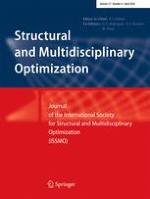 Support Vector enhanced Kriging for metamodeling with noisy data
Zeitschrift:
Autoren:

Liming Chen, Haobo Qiu, Chen Jiang, Mi Xiao, Liang Gao
Abstract
Sample data may be corrupted by noise in engineering problems. In order to make satisfactory approximations for the data with noise, some regression metamodels are adopted in current researches. The commonly used nugget-effect Kriging regards the variance of noise as a constant and ignores the difference of the noise influence, thus may not be effective enough in some cases. Therefore, a Kriging-based metamodel which combines the merits of Kriging and Support Vector Regression (SVR) is put forward for improving the performance in metamodeling with noisy data. The developed method, termed as SVEK, can capture the underlying trend of an unknown function efficiently by classifying the sample points and then regressing these classified points with different extents. Besides, a criterion for selecting the error margin
ε
in SVR training is proposed to facilitate the parameter setting process. Moreover, a one-variable test example is used to illustrate the modeling theory and construction procedures of SVEK. Eight numerical benchmark problems with different important characteristics are used to validate the proposed method. Then an overall comparison between the nugget-effect Kriging and the proposed method has been made. Results show that SVEK is promising in metamodeling with noisy data.