2007 | OriginalPaper | Buchkapitel
Supporting Growth through Innovation Networks in Unilever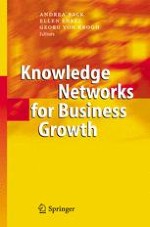 Erstes Kapitel lesen
Autoren: Maria Rumyantseva, Ellen Enkel, Anita Pos
Verlag: Springer Berlin Heidelberg
Strong competition, market maturity and improvement in R&D practices led to the re-evaluation of strategic policies in many industries. These issues also caused a shift of emphasis from the conventional bottom-line sources of growth, aimed at increasing efficiency and profitability, to their re-combination with a top-line growth source, which ensures long-term competitiveness through innovations.
At Unilever, the focus on knowledge and innovations has a solid background, since knowledge management has been actively practiced in the company for the last 10 years and measurable results have been achieved. Currently, Unilever's five-year strategic plan announced in 2000 is "a series of linked initiatives designed to align entire organization behind ambitious plans for accelerating growth and expanding markets". This is to be achieved by "focusing on Unilever's leading brands and supporting them with strong innovation" ("Path to Growth", 2000).
Considering the company's rich experience in the area of innovation, the innovation network fits ideally into the current initiatives. It links local communities of practice, focused on the tacit knowledge dimension, with the innovation process management (IPM) program aimed at the coordination of the innovation initiatives across the company and dominantly focused on providing information and explicit sources of knowledge.
The tasks of the innovation network are to increase the transparency of existing innovation initiatives and increase the credibility of the company's innovation strategy through the direct involvement of employees in the process of selection and prioritization of projects.
The importance of the network for the company strategy, the high level of portfolio coordination that it is granted, and its structural links through the organizational matrix with units that are responsible for their own financial prosperity, imply the possibility of hidden agendas. These hidden agendas make the work of network more challenging, but simultaneously indicate that there is a real value at stake and that the professional management of the innovation network could produce real value for the company. Finally, we made some suggestions on the ways how this value could be monitored and quantified.