27.10.2017 | Ausgabe 1/2018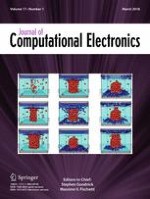 Suppression of coupling in a microstrip antenna array by grounded defective strips in Bluetooth devices
Zeitschrift:
Autoren:

Lavesh Gupta, Arun Dev Dhar Dwivedi
Abstract
The reduction of destructive mutual coupling in microstrip patch array antenna design for Bluetooth application has been proposed. The designed array contains two rectangular microstrip patch antenna elements, three grounded metallic strip lines, one substrate layer and a common ground plane. Nearly
\(-36\)
dB coupling isolation is observed at 2.4 GHz resonance frequency. The simulated and measured parameters verify the improvement of isolation by nearly 20 dB, when it is compared to those without metal strip lines. Radiation patterns remain unaffected after etching strip lines in the proposed design of microstrip patch antenna array.