05.05.2020 | Ausgabe 7/2020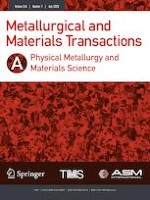 Suppression of Discontinuous Precipitation in Cu-Ti Alloys by Aging in a Hydrogen Atmosphere
Zeitschrift:
Autoren:

Satoshi Semboshi, Yasuyuki Kaneno, Takayuki Takasugi, Naoya Masahashi
Wichtige Hinweise
Manuscript submitted October 2, 2019.
Publisher's Note
Springer Nature remains neutral with regard to jurisdictional claims in published maps and institutional affiliations.
Abstract
Age-hardened Cu-Ti alloys are widely used as conductive materials in small electrical devices, so it is important for them to have suitable mechanical and electrical properties. One of the principal guidelines for improving the mechanical properties of Cu-Ti alloys is to suppress the formation of coarse discontinuous precipitates within them. Herein, we investigated the microstructure and properties of a Cu-4 at. pct Ti alloy aged under hydrogen pressures of 0 to 0.6 MPa, focusing on discontinuous precipitation at the grain boundaries. During the early stages of aging, fine needle-shaped metastable
β
′-Cu
4
Ti precipitates formed continuously in the matrix. With further aging, these
β
′-Cu
4
Ti precipitates continued to nucleate and grow, and simultaneously cellular components composing of the lamellae of Cu solid solution and the stable
β
-Cu
4
Ti discontinuous precipitates were formed at grain boundaries. Nevertheless, the formation of these cellular components was significantly suppressed when aging under hydrogen pressures of above 0.03 MPa. Upon aging under higher hydrogen pressures (> 0.10 MPa), some granular TiH
2
precipitates formed, and the preformed
β
′-Cu
4
Ti precipitates decomposed. Upon aging under 0.03 MPa hydrogen pressure, fine metastable
β
′-Cu
4
Ti precipitates were formed dominantly, because the formation of stable
β
-Cu
4
Ti laminates was suppressed and the TiH
2
precipitates was still not formed. Hence, the hardness was maintained under over-aging conditions.