01.08.2011 | Originals Originalarbeiten | Ausgabe 3/2011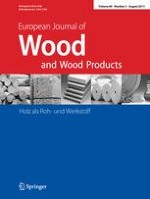 Surface characteristics and overlaying properties of flat-pressed wood plastic composites
Zeitschrift:
Autoren:

Songklod Jarusombuti, Nadir Ayrilmis
Abstract
This study evaluated surface characteristics and overlaying properties of wood plastic composite (WPC) panels made from dry-blended rubber wood fiber-polypropylene (PP) powder formulations using a conventional flat-press process under laboratory conditions. Three levels of rubberwood fibers (
Hevea brasiliensis
), 40%, 50%, and 60%, based on the composition by weight, were mixed with the PP powder without and with 3% (based on weight) maleic anhydride grafted PP (MAPP) as a coupling agent. Contact angle measurements on the WPC samples were performed using a goniometer connected with a digital camera which collected one image per second. Roughness measurements, average roughness (
R
a
), mean peak-to-valley height (
R
z
), and maximum roughness (
R
y
), were taken from the sanded samples along and across the sandmarks using a fine stylus tracing technique. With increasing polymer content, surface roughness of the WPC panels improved while their wettability and adhesive bonding strength decreased. The formulations without MAPP were found to have higher surface roughness but they also had better wettability. Wettability and surface roughness of the WPC panels can provide good information on their ability to bond.