2007 | OriginalPaper | Buchkapitel
30. Surface Forces and Nanorheology of Molecularly Thin Films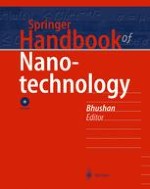 Erstes Kapitel lesen
Autoren: Prof. Marina Ruths, Prof. Jacob Israelachvili
Verlag: Springer Berlin Heidelberg
Abstract
In this chapter, we describe the static and dynamic normal forces that occur between surfaces in vacuum or liquids and the different modes of friction that can be observed between: (i) bare surfaces in contact (dry or interfacial friction), (ii) surfaces separated by a thin liquid film (lubricated friction), and (iii) surfaces coated with organic monolayers (boundary friction).
Experimental methods suitable for measuring normal surface forces, adhesion and friction (lateral or shear) forces of different magnitude at the molecular level are described. We explain the molecular origin of van der Waals, electrostatic, solvation and polymer-mediated interactions, and basic models for the contact mechanics of adhesive and nonadhesive elastically deforming bodies. The effects of interaction forces, molecular shape, surface structure and roughness on adhesion and friction are discussed.
Simple models for the contributions of the adhesion force and external load to interfacial friction are illustrated with experimental data on both unlubricated and lubricated systems, as measured with the surface forces apparatus. We discuss rate-dependent adhesion (adhesion hysteresis) and how this is related to friction. Some examples of the transition from wearless friction to friction with wear are shown.
Lubrication in different lubricant thickness regimes is described together with explanations of nanorheological concepts. The occurrence of and transitions between smooth and stick–slip sliding in various types of dry (unlubricated and solid boundary lubricated) and liquid lubricated systems are discussed based on recent experimental results and models for stick–slip involving memory distance and dilatancy.