24.03.2016 | Original Paper | Ausgabe 12/2016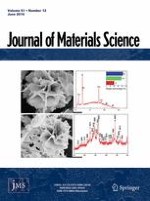 Surface-imprinted polymer coating
l

-cysteine-capped ZnS quantum dots for target protein specific recognition
Zeitschrift:
Autoren:

Xin Zhang, Shu Yang, Liquan Sun, Aiqin Luo
Abstract
This paper demonstrated a new method for preparing fluorescent molecularly imprinted polymer (MIP) for specific recognition of a target protein. The MIP-based fluorescent receptor was developed by coating MIP layer on the surface of
l
-cysteine modified Mn
2+
-doped ZnS quantum dots (QDs) using the surface molecular imprinting process. These MIP-QDs composites demonstrated fast adsorption kinetics, high stability, and good dispersibility in aqueous media. Since the fluorescence quenching of MIP-QDs composites is proportional to the concentration of the lysozyme, the MIP-based fluorescent receptor was successfully applied to the direct fluorescence quantification of lysozyme without further pretreatment. The MIP-based fluorescent receptor exhibited good selectivity and sensitivity for lysozyme detection. The optimum fluorescence intensity of the MIP-QDs was found to be at pH 6.0, and the linear range of lysozyme was from 0.1 to 2.0 μM with the detection limit of 25.2 nM. Moreover, the proposed fluorescent receptor was satisfactorily applied to the determination of lysozyme in real samples. This study provides a new approach for recognizing and detecting of specific proteins in biological samples.