05.01.2016 | Ausgabe 2/2016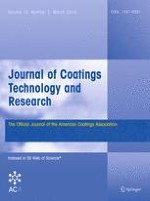 Surface improvement on water and oil affinities and absorption rate of PVA/Tung oil-coated paperboard and fiberboard
Zeitschrift:
Autoren:

Apichaya Jianprasert, Pathavuth Monvisade, Masayuki Yamaguchi
Abstract
A novel coating material on paperboard and fiberboard from poly(vinyl alcohol) (PVA) modified with Tung oil was developed. The PVA/Tung oil coating was cured at several conditions: 25, 40, 50, and 60°C, in the presence of two types of catalysts, i.e., thermal catalyst using potassium persulfate (KPS) and redox catalyst using KPS and sodium thiosulfate. The chemical crosslinked structure of PVA/Tung oil-coating films was confirmed by FTIR. The result indicated the decrease in the double bonds of Tung oil by crosslinking reaction, especially at 60°C. In comparison with the same curing temperature, the films with redox catalyst showed more reduction in the number of double bonds of Tung oil. DMA results of the PVA/Tung oil-coating materials with redox catalyst showed the lowering of the heights of both
β
transition peak of Tung oil and
α
transition peak of PVA. FTIR and DMA results confirmed the more efficient crosslinking reaction of redox catalytic system than that of the thermal catalytic system. The water resistance and mechanical properties of these coating materials exhibited better values as projected to higher curing temperature and redox catalyst. SEM images showed the smooth surface of PVA/Tung oil covered on the paperboards with ~72 µm in thickness. The contact angle of water or oil drop and dynamic change in contact angle on the surfaces of PVA/Tung oil-coated paperboards and fiberboards were investigated. The results show the contact angles for both water and oil were lower than those of the uncoated ones, indicating the improvement of water and oil affinities of the PVA/Tung oil-coating materials. The dynamic changes in contact angle of the coated ones also decreased, suggesting the reduction in water and oil absorption rates of these coated substrates.