06.03.2018 | Original Paper | Ausgabe 4/2018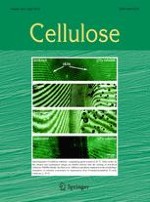 Surface modification of cellulose microsphere with imidazolium-based ionic liquid as adsorbent: effect of anion variation on adsorption ability towards Au(III)
Zeitschrift:
Autoren:

Zhen Dong, Long Zhao
Wichtige Hinweise
Electronic supplementary material
Abstract
A series of cellulose functionalized with imidazolium-based ionic liquid as adsorbents (Resin-Xs) bearing various encountered anions were newly synthesized by grafting glycidyl methacrylate onto cellulose microspheres followed by reaction with different ionic liquids 1-aminopropyl-3-methyl imidazolium salt. FTIR and XPS confirmed successful covalent immobilization of ionic liquids onto cellulose microspheres. The adsorption behaviors of Resin-Xs towards Au(III) were investigated as function of pH, contact time, metal ion concentration and temperature. The Resin-Xs exhibited excellent adsorption ability towards Au(III). Their maximum adsorption capacities obtained by Langmuir model were ranging 454.4–735.3 mg/g. Adsorption equilibrium could be achieved within 2 h, and the kinetics data were better fitted to pseudo-first-order model. Besides, it was indicated that encountered anion (X) had significant effect on their adsorption capacity with order of NO3− > NTf 2 −  ≈ Br− > Cl− > BF4−, which was due to the fact that radius, hydrophilicity together with coordination ability of anions affected adsorption mechanism and thus determined adsorption ability. The results suggested that Resin-Xs were suitable materials for highly efficient and fast recovery of gold from aqueous solutions.