20.02.2019 | Ausgabe 3/2019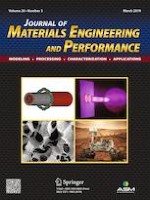 Surface Modification of High-Carbon Steel Using Fiber Laser and Its Thermal, Microstructural and Tribological Analysis
Zeitschrift:
Autoren:

Mohammad Shahid Raza, Susmita Datta, Kumar Vivekanand, Partha Saha
Wichtige Hinweise
Publisher's Note
Springer Nature remains neutral with regard to jurisdictional claims in published maps and institutional affiliations.
Abstract
In this study, surface modification of high-carbon steel was carried out using 2 kW fiber laser and thermal, microstructural and tribological characterizations were performed. The process parameters selected for laser surface treatment were laser power (600-1500 W) and scan speed (3000-4500 mm/min). Infrared pyrometer was used to record the surface temperature during the process. The metallographic analysis was carried out using an optical microscope to find the depth and width of the laser-treated zone. Scanning electron microscopy and energy-dispersive spectroscopy were performed to reveal the microstructure and compositional changes taking place in the laser-treated zone. It was observed that the dendritic growth took place from the top surface toward the center of the laser-treated zone. The amount of dendritic growth can be related to the maximum surface temperature generated during the process. XRD analysis indicated the formation of some intermetallic compounds and phase shifts taking place in the laser-treated zone. Residual stress analysis was performed to analyze the amount of stress accumulation in the laser-treated zone. When the temperature cycle was analyzed, it was found that the melting of the steel resulted in the formation of a surface under compressive stress while the non-melt hardened zone developed a surface under tensile stress. The maximum Vickers microhardness value achieved was about 958.8 HV0.5 for 1500 W power and 3000 mm/min scan speed. Scratch test was performed on the laser-treated track, and it was found that the hardened zone showed better tribological properties with respect to the parent material. Finally, it was observed that the surface roughness value increased with higher heat input probably due to high rate of oxide formation as well as due to the presence of martensite in the laser-treated zone.