01.10.2011 | Research Paper | Ausgabe 10/2011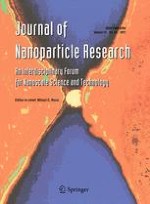 Surface modification of magnetite nanoparticle with azobenzene-containing water dispersible polymer
Zeitschrift:
Autoren:

Pawinee Theamdee, Rakchart Traiphol, Boonjira Rutnakornpituk, Uthai Wichai, Metha Rutnakornpituk
Wichtige Hinweise
Electronic supplementary material
The online version of this article (doi:
10.​1007/​s11051-011-0399-7
) contains supplementary material, which is available to authorized users.
Abstract
We here report the synthesis of magnetite nanoparticle (MNP) grafted with poly (ethylene glycol) methyl ether methacrylate (PEGMA)-azobenzene acrylate (ABA) statistical copolymer via atom transfer radical polymerization (ATRP) for drug entrapment and photocontrolled release. MNP was synthesized via thermal decomposition of iron (III) acetylacetonate in benzyl alcohol and surface functionalized to obtain ATRP initiating sites. Molar compositions of the copolymer on MNP surface were systematically varied (100:0, 90:10, 70:30, and 50:50 of PEGMA:ABA, respectively) to obtain water dispersible particles with various amounts of azobenzene. The presence of polymeric shell on MNP core was evidenced by transmission electron microscopy (TEM). Drug loading and entrapment efficiencies as well as drug release behavior of the copolymer–MNP complexes were investigated. It was found that when percent of ABA in the copolymers was increased, entrapment and loading efficiencies of prednisolone model drug were enhanced. Releasing rate and percent of the released prednisolone of the complex exposed in UV light were slightly enhanced as compared to the system without UV irradiation. This copolymer–MNP complex with photocontrollable drug release and magnetic field-directed properties is warranted for further studies for potential uses as a novel drug delivery vehicle.