01.10.2018 | Original | Ausgabe 1/2019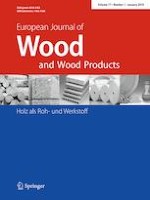 Surface properties of different natural precious decorative veneers by plasma modification
Zeitschrift:
Autoren:

Xiaorui Peng, Zhankuan Zhang
Wichtige Hinweise
Publisher's Note
Springer Nature remains neutral with regard to jurisdictional claims in published maps and institutional affiliations.
Abstract
Five kinds of typical natural precious decorative veneer rosewood, teak, black walnut, northeast China ash and red oak were treated by plasma at different discharge powers and speeds. The surface property changes of the treated and untreated wood were studied via contact angle, scanning electron microscopy (SEM), and X-ray photoelectron spectroscopy (XPS) analyses. The measurements showed that the dielectric barrier discharge (DBD) plasma could improve the surface wettability of all five kinds of natural precious decorative veneer, and improvement effects mainly depended on the discharge power and feeding speed. The SEM results showed that the DBD plasma gave remarkable etching on the decorative veneer surface and increased surface roughness. When the feeding speed decreased, the etching was heavier. The XPS results indicated that the carbon element content decreased, while the oxygen element increased. The O/C ratio concentration reached a balance with a higher discharge power, and many carboxyl groups were formed. It was found that the contact angle of teak decorative sliced veneer had the smallest drop and the element ratio of O/C decreased with DBD plasma treatment.