01.09.2018 | Research Paper | Ausgabe 9/2018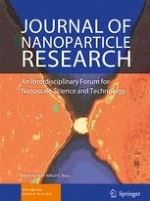 Surface property modification of well-dispersed amphiphilic gold nanoparticles as individuals
Zeitschrift:
Autoren:

Hyun-Jun Jang, Sun Hae Ra Shin, Hee-Young Lee
Wichtige Hinweise
Electronic supplementary material
Abstract
Amphiphilic gold nanoparticles (AuNPs) functionalized with mixed monolayers consisting of hydrophobic and hydrophilic ligands find widespread applications in biosensing, drug delivery, and bioimaging. One important aspect of amphiphilic AuNPs in such applications is the tuning of the surface properties of these AuNPs by modifying the composition of the ligands. In this study, well-dispersed AuNPs as individuals with mixed monolayers of hydrophobic and hydrophilic ligands were synthesized and the ratios of hydrophilic and hydrophobic ligands on the AuNP surfaces with varying ligand lengths were investigated by electrostatic titration. We demonstrated that longer hydrophobic ligands have higher affinity for the AuNP surface, and that the relative ligand length plays an important role in determining the maximum hydrophobic coverage on the AuNP surface at which the ratio of the amount of hydrophobic to that of hydrophilic ligands on the AuNP surface is the largest, for AuNPs to remain as individuals. We expect that the AuNPs synthesized with diverse ratios of hydrophobic and hydrophilic ligands on the surface can be useful in biological applications.
×