07.12.2019 | Original Research | Ausgabe 4/2020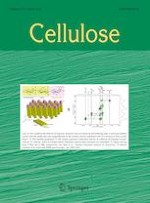 Surface structural analysis of selectively 13C-labeled cellulose II by solid-state NMR spectroscopy
Zeitschrift:
Autoren:

Yusuke Kita, Ryosuke Kusumi, Tsunehisa Kimura, Motomitsu Kitaoka, Yusuke Nishiyama, Masahisa Wada
Wichtige Hinweise
Publisher's Note
Springer Nature remains neutral with regard to jurisdictional claims in published maps and institutional affiliations.
Abstract
The local structure on the surface of plate-like cellulose II oligomer crystals (CIIOCs) was investigated by NMR spectroscopy. CIIOCs with reducing ends that were selectively labeled with 13C were enzymatically synthesized using cellodextrin phosphorylase. The solid-state 13C cross polarization/magic angle spinning spectra of the 13C-labeled CIIOCs clearly exhibited two resonance peaks (labeled as C1Rα and C1Rβ) derived from the C1 atoms of the reducing ends. The 2D 13C double quantum/13C single quantum homonuclear correlation spectrum indicated that two magnetically nonequivalent glucopyranose rings (Rα and Rβ units) coexisted at the reducing end units. The 1H/13C heteronuclear correlation spectrum suggested that there was a large difference between the local environments around the anomeric carbons of Rα and Rβ units. The abundance ratio of C1Rβ to C1Rα in the solid state was 4:1, whereas that of C1α and C1β in solution was 1:1. When the oligomer chains are packed in the cellulose II crystal, the reducing end units located on the surface of the plate-like crystal may tend to have β-anomeric structure, which would be more sterically stable than the α-anomeric structure.